We've done the research – so you don't have to! In this buyer's guide, we'll cover all the specific things you should be on the lookout for when investing in enterprise search software.
Previously, we discussed the basics of search as a service and the strategic benefits of AI-powered enterprise search.
Before jumping into features that distinguish the best enterprise search software, we'll review some basic definitions and examples.
Understanding internal information search
This type of search works like Google, only restricted to your company's internal knowledge. Google retrieves external information from across the internet, but internal information search sources knowledge from within your company. This process, also called enterprise search, requires robust software to crawl and index information from multiple sources.
What is enterprise search software?
Enterprise search software is a SaaS product that specializes in internal information search. It connects to company data sources – like drives, intranets, and knowledge bases – and retrieves information based on user queries. The most powerful enterprise search software uses AI and machine learning to provide relevant, insightful answers.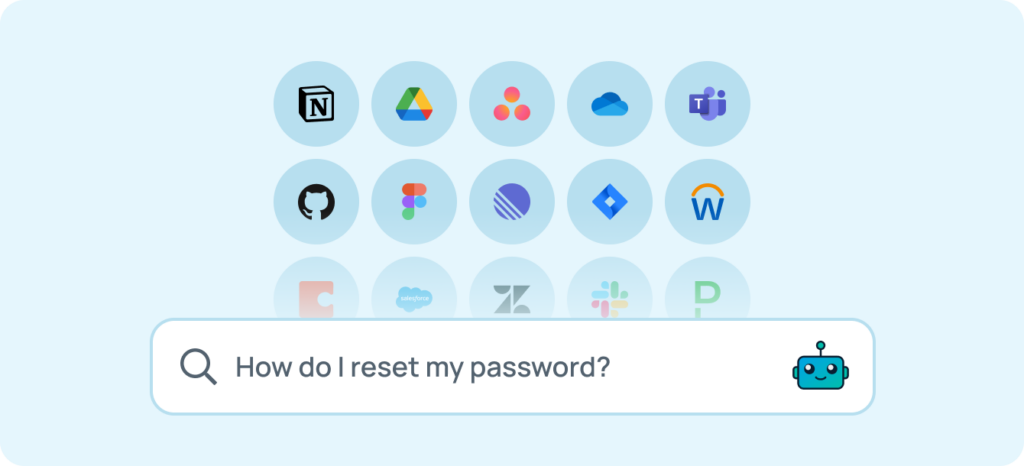 Ways you can use internal information search
Compile insights from multiple sources
🔍 "What's the status of our iOS app development project?"
↳ "This sprint, the team is focused on building push notifications. Version 4.2 of the app was released to the App Store last week. View the roadmap and release notes here."
Get 24/7 support from GenAI chat
🔍 "How can I reset my password?"
↳ "Access the password reset guide here, or reach out to Ellie Peña on the IT team."
Access people data from non-private channels
🔍 "Who might be interested in a pickup basketball game in San Fran?"
↳ "Here's a list of coworkers who live in the Bay Area and like basketball."
Key features of the best enterprise search software
1. Consistent, relevant search with an up-to-date index
For internal search, high performance means consistent, high-relevance results that give people the answers they need. This requires robust back-end engineering and a frequently updated search index.
2. Robust content integrations across all your data sources
The best enterprise search software allows a high number of data integrations. This means it should connect to content management apps, communication platforms, team and HR data, and more – anywhere you have knowledge stored.
Individual control over these connections supports data security. So, look for a solution that enables public, company-wide integrations as well as personal data connections – like email and chat messages. These private connections return search results only to the owner.
3. Built-in GenAI chat experience
Generative AI (like ChatGPT) is transforming the way we use technology. More than 70% of companies are already experimenting with GenAI, and the SaaS market has bloomed with generative AI tools. That's why the best enterprise search software must include this technology. GenAI's natural language processing enables conversational search, contextual follow-ups, and augmented intelligence. If you want extra control, look for an option that lets you disable AI search results temporarily.

4. Highest-standard security and privacy to keep your data protected
Not all internal search platforms support enterprise-grade security. Look for solutions that adhere to the highest industry standards for data privacy and encryption, like SOC 2 Type II. Additional features like Single Sign-On (SSO) or access governance make sure only people with permission can access company knowledge or specific search results.
The most secure software even lets you bring your own cloud and/or LLM API key. This means the enterprise search platform acts as a front end for data stored on your own cloud and you maintain your own AI data logs, giving you full control.
5. Reliable performance at enterprise scale
Enterprise companies need search software that can handle large amounts of data, high user volume, and frequent information changes. You want a platform that won't lag during peak usage and that indexes frequently to account for new, updated, and archived data. Another important enterprise feature is fault-tolerant infrastructure, which ensures no loss of service.
6. Competitive pricing plus a positive ROI
Even though a majority of companies are experimenting with generative AI, only 18% plan to spend more on AI in the coming year. This means that most companies aren't willing to adjust their budgets to accommodate new tech.
The solution? Find enterprise search software that maximizes saved time, translating to increased productivity and a net-positive return on your SaaS investment. This means investing in a market-leading solution, since a low-budget, underdeveloped option won't drive the same savings long-term.
For more tips on balancing cost and growth, read this article on SaaS budget planning.

7. User-friendly interface for your whole organization
Enterprise search platforms should mimic the frictionless UX of external search engines. That's what people are familiar with, and it'll make company-wide adoption of internal search simpler and more successful. Plus, an intuitive solution requires less training, saving you time and personnel resources.
Find an internal search tool that works where you work – like in Slack and other communication apps. With enterprise search connected to Slack, everyone can search and share seamlessly within the channels they already use.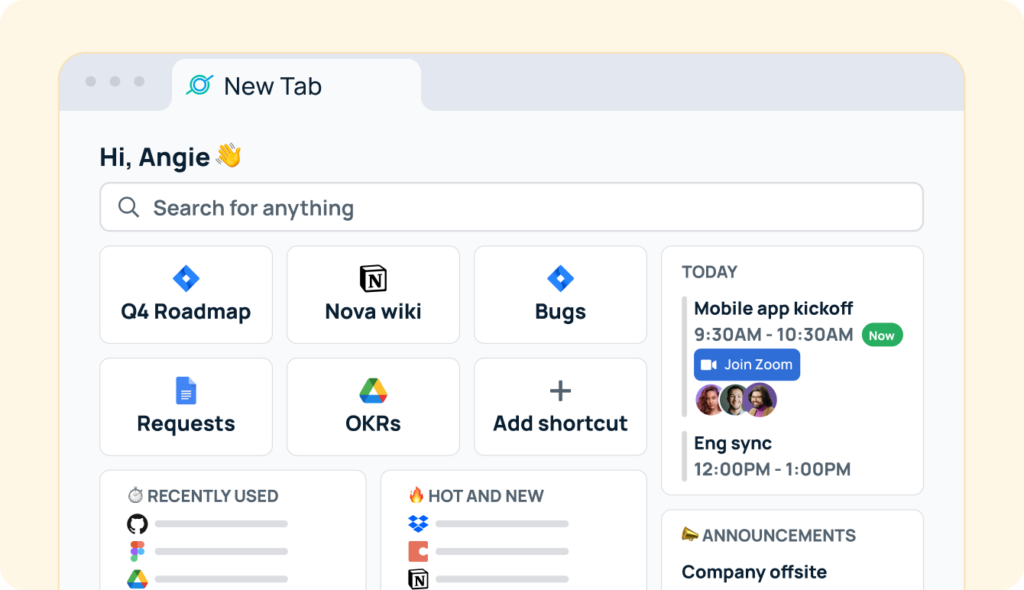 8. Insightful analytics based on your search data
While any AI-powered search has the potential to track analytics, not all platforms make that information available to users. Find a search solution with accessible analytics, so you can gain insights into your company's popular queries, app usage, not-found terms, and team-specific searches.
GoSearch: A top-tier enterprise search software
For a solution that checks all the boxes, try GoSearch. This internal search tool outperforms competitors across the board – especially when it comes to security. With highest-standard data protection and engaging UX, GoSearch is an industry leader in enterprise search.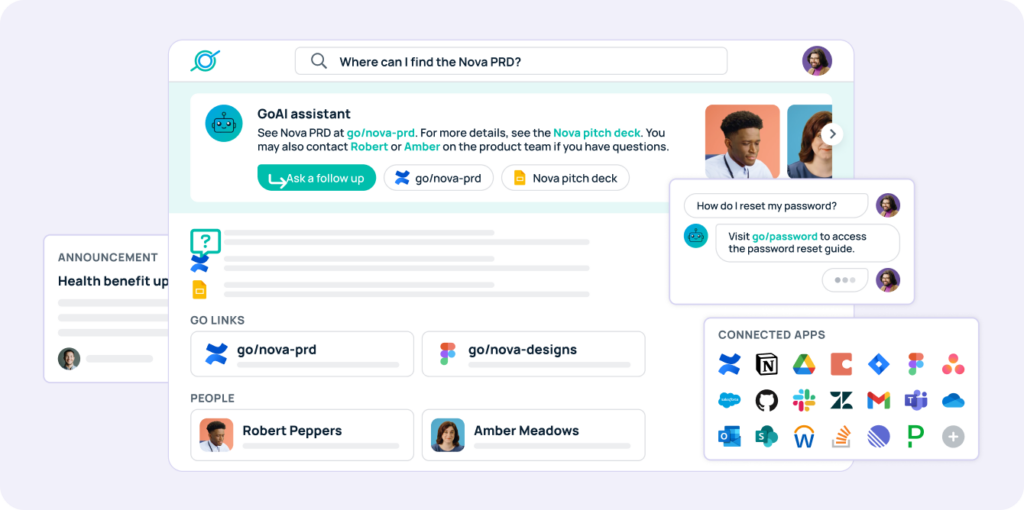 Reasons why enterprise companies trust GoSearch:
SOC 2 Type II certified and GDPR compliant
Secure data encryption
Integrates with your existing SSO
High availability with 99.9% uptime SLA
Permission-aware access that respects underlying access restrictions
Indexing controls that keep personal data private
Integrate your own LLM API key for enhanced security
Bring your own cloud to store data on company servers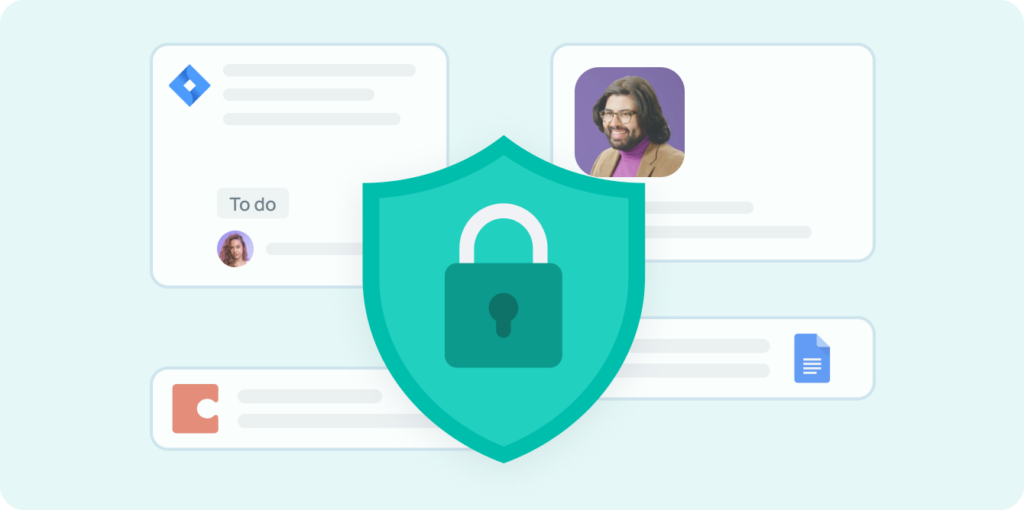 Reasons why users love GoSearch:
Integrate with 100+ data sources – including all your favorite apps and tools
Never miss information with an index that updates in real time
Search directly from a new tab
Access a unified knowledge hub with announcements, recently used apps, and more
Verify resources to indicate the most recent, authoritative version
Control your personal data connectors to keep your information accessible but private
Gain insights into popular queries and resource stats with search analytics
Learn about your coworkers with GenAI connected to HR software or a people platform
Unlock powerful outcomes with enterprise search software
It's important to find the best enterprise search software for your company, since search is a fundamental part of everyone's job – whether that's a manager looking for people data, a support specialist pulling resources for a client, or a new hire trying to get oriented.
A tool that everyone uses everyday to work more deeply, efficiently, and effectively – sounds too good to be true. But that's exactly what enterprise search offers. Book a demo to see how GoSearch can bring knowledge discovery to your company.